It's been a busy month, and there's a lot to report following the Steering Committee's latest monthly meeting, held on Wednesday October 17 in Oakland.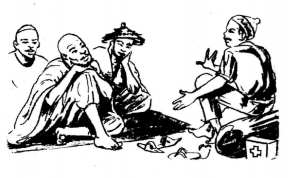 First off, we've added a new member to our steering committee. Zach Matheson is a recently returned Peace Corps volunteer who served in Mali's western region near Kati, is a fluent French speaker, and with an interest and expertise in Public Health. Welcome Zach!
Translation
Our editor, Djibril, has been busy proofreading Chapters 18 and 20. He's been reviewing the text very carefully, which means the work is moving slowly between his family obligations and full-time teaching job. Overall, he says the translation is very good, but there are a few areas that need some attention, and a few issues to discuss. We could use the services of one or more other editors. Qualifications: must be a native Bambara speaker, and have expertise in the written language.
Our current plan is to create side-by-side versions in Bambara, English, and French (although we're not planning print runs for the English and French editions, but will publish them as PDF documents). This means that dozens of pages of text need to be translated from English to French and vice-versa. Members of the steering committee are helping with this, but we could use extra help from volunteers.
We've signed an agreement with GPHAN, the Global Public Health Action Network, a student organization at NYU. They've agreed to help provide research assistance on medical issues where it's needed. We are delighted to welcome Hawa Nangado to the team. Hawa is from Segou, Mali (!) and is a first-year student in NYU's public health graduate program.
Layout
We've begun laying out the first two chapters in Adobe InDesign. We've also figured out a streamlined way to extract the images from the PDF documents (and crop and de-speckle). We could use volunteers to help with this task. We've also spent some time debating different fonts, and have tentatively settled on the free font Charis SIL for the body text, which has excellent Unicode support. Ultimately, we may test a few different fonts with our target audience to see if Malian readers have a preference or if any readability issues come up.
Administration and Finance
We've signed the grant agreement with our fiscal sponsor African Sky. What this means is that people can make tax-deductible donations to African Sky, and designate them for our use. We've also finished opening a business checking account at Mechanics Bank. We're looking into the cost of wiring money to our translators in Mali via wire transfer, Western Union (or other means?).
Fundraising
We haven't really launched a fund-raising campaign, but all of the pieces are in place (i.e. paperwork filed, bank account set up, online donation system in place, etc.) Despite this, we've received two gifts, totaling $300, both from alumni of Mali Peace Corps. Thank you to both of you! The service that we're using to take online donations works very well. FirstGiving goes to lengths to protect donors' privacy. Unfortunately, this means that we don't always have enough information to send a personalized donor acknowledgement.
We've submitted one grant application for $2,000 to a local organization. We're working on identifying funders to approach for the next stage of the project. We're also hoping to receive individual donations during and after our launch party in November, which will also mark the formal launch of our fundraising campaign. Through our conversations with others, it's clear that there is a lot of interest an enthusiasm for this endeavor out there, especially among Returned Peace Corps Volunteers. We are hoping to turn that enthusiasm into the nearly $25,000 we estimate is needed to pay for translation, editing, and field testing.
Website
The Facebook page seems to be where the action is. Not many people have signed up for emails updates via the site. Still, it's important that it's there. It will continue to be the official source of information about the project, and we'll add updated budgets, project updates, etc. here. In the next few months, we'll try to translate the basic information on the website into French. We've also discussed translating into Bambara, but probably won't proceed with this unless we find a volunteer to do it. It doesn't seem like a big enough priority to pay to translate the website.
Outreach and Volunteers
We could still use more volunteers to help with a number of tasks, mostly related to managing the text. Also, now that we will be able to share with others what the book will look like, we will begin reaching out to other organizations involved with health and community development in Mali.
Launch Party!
We decided months ago that we wanted to throw some kind of a party. We spent a lot of time searching for the perfect venue in the last month, and settled on the very generous offer by supporters willing to host us in their home in San Francisco on Sunday, November 11. The purpose of the party is twofold. First, we want to show off the progress we've made. We are nearly finished translating, proofreading, and laying out the first two chapters—nearly 10% of the book. The second purpose is to launch the fund-raising campaign. Up to this point, we've been largely self-funded by contributions from steering committee members and a generous start-up grant from African Sky. However, our cash on hand is running low, and we'll need more funds to enter into a second contract with our translators in Bamako.
The party should be a lot of fun! We'll have African food and drinks. Our friend Karamo Susso has agreed to come and play music. He is a master of the kora, the 21-stringed West African harp. We've also had donations of wine and beer, which we hope will help put people in a generous mood! We are putting together a host committee for the party and doing everything we can to get the word out, especially to people with an interest in, or connection to Mali and West Africa.