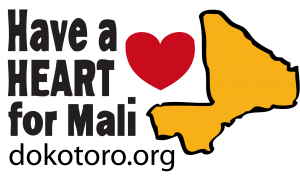 This Valentine's Day, the Dokotoro Project is launching a six-week fundraising campaign to inspire people around the world to "Have a Heart for Mali" and contribute to the long-term health of Malians. Mali is one of the poorest countries in the world, and it is currently in the midst of an acute humanitarian crisis. Because of the disruption of basic services – including health care – the needs of ordinary Malians are greater than ever.
This short 3-minute video (edited by volunteer Scott Saraceno) explains why our project, to adapt and translate the book Where There is No Doctor: A Village Health Care Manual into Bambara, is so critical, and why we need your help.
Here's the deal: It will cost about $30,000 to translate, proofread, and edit this 600-page health guide. Why so expensive? We pay our Mali-based translation team 10 cents per word for translation, and an additional 10 cents for a double-round of proofreading. We then pay a separate editor for a final quality check.
We also have a team of volunteers who provide thousands of dollars worth of in-kind contributions through French-English translations, professional design and layout, and medical review. But if we don't have the basic funds to pay our translators, we can't unlock the additional value of all these volunteers.
Our goal for the "Have A Heart for Mali" campaign is to raise a total of $20,000 for the project (we have already raised over $8,500). This amounts to two-thirds of our total translation budget, so we need your help.
Every dollar we raise is fully tax deductible and will pay for our direct translation costs.
$250 can pay for printing and binding about 16 books
$150 will pay for translating, proofreading, editing, testing, and printing one page
$100 can help us pay for a one-day workshop in Mali for partners to review the book
$50 will allow us to translate and proofread 1 ½ pages
Please consider joining the Dokotoro community, and thanks for having a heart!