We were delighted to receive an endorsement of the Dokotoro Project from Kris Holloway, author of Monique and the Mango Rains: Two Years with a Midwife in Mali.
During my Peace Corps experience in Mali, Where There is No Doctor was one of the few practical, life-saving books I used in my work in a small clinic. How useful it would have been to have a copy in Bambara so that health workers in my village could read it!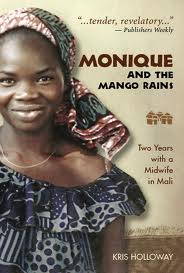 When talking to friends about the Dokotoro Project, I tell them that to really understand the health challenges in Mali, they should read Monique and the Mango Rains.
In this extraordinary work of non-fiction, Ms. Holloway describes her time as a Peace Corps health worker and the extraordinary friendship she develops with a young village midwife, Monique Dembelé. I am not exaggerating when I say, "you will laugh and you will cry" while reading this book.
It's particularly great to have Kris's support, just as we launch our six-week fundraising campaign, "Have a Heart for Mali." This is our effort to raise $20,000 (two-thirds of our translation budget) by March 31.
Monique and the Mango Rains is now available on Kindle from Amazon.com. All sales of the book support Clinique Monique, the rural health clinic established in Monique's honor.