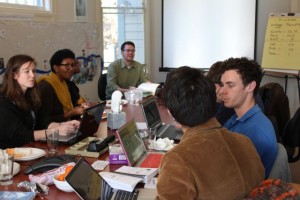 Thanks to all the great volunteers who turned out this past weekend to dedicate their afternoon to the first-ever Dokotoro Hackathon. We had a dozen dedicated folks turn out to merge (French-English) several new chapters, do formatting, and make some serious inroads into thinking about how to best review the outdated medical information from the old French version. We all learned first hand how much preparation needs to be done before sending our text to our Mali-based translation team.
The atmosphere was one of industriousness and intense concentration. The scene was one of pizza boxes, snack wrappers, and laptops. In the middle of the table was one our our prized possessions: two volumes of the latest French-Bambara dictionary (by Father Bailleul), which had just arrived in the mail, slightly battered and smelling of soap.
It was a productive afternoon, and it was fun to meet up with friends who share a love for Mali. If you would like to volunteer, please email Jenna at jenna@dokotoro.org; we will be having more hackathons in the future and would love for you to join. And you don't have to live in the San Francisco bay area or speak French to get involved — we have volunteers from Minnesota to New York, from Bamako (Mali) to Bobojulaso (Burkina Faso) pitching in.  Please join our team!